WEST AIR EUROPE
In Memoriam

Luxembourg

Code OACI : WLX

Compagnie cargo, filiale de West Air Sweden, fondée en 2003.

Fusionna avec Atlantic Airlines en 2008 pour former West Atlantic.

Luxembourg

ICAO code : WLX

Cargo ailrine, subsidiary of West Air Sweden, established in 2003.

Merged with Atlantic Airlines in 2008 to form West Atlantic.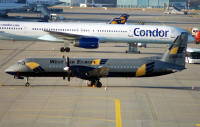 British Aerospace ATP
LX-WAM
Düsseldorf - DUS 05-02-05
<Compagnies>