Balkan Air Tour
In Memoriam
Bulgarie

Code IATA : FB Code OACI : LZB

Compagnie fondée en 2002 par le gouvernement Bulgare en vue de reprendre des lignes exploitées par Balkan Bulgarian Airlines en faillite. Elle cessa ses activités en 2003.

Bulgaria

IATA code : FB ICAO code : LZB

National carrier of Bulgaria founded in 2002 to operate flights from the collapsed Balkan Bulgarian Airlines. Ceased operations in 2003.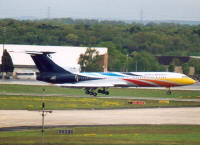 Tupolev TU-154M
LZ-HMI
Frankfurt - FRA 2002