Air Tranport International
Ceci n'est pas le site officiel de la compagnie.
Pour joindre le site, voir en bas de page.
This is not the official webpage of the airline.
To join it, please see at the bottom of the page.

U.S.A.

Code IATA : 8C Code OACI : ATN

Compagnie charter passagers et cargo fondée sous le nom de US Airways en 1978 et connue ensuite sous le nom d'Interstate Airlines.Le nom actuel fut adopté en 1988. Au 1er octobre 1994 ICX International Cargo Express fusionna avec Air Transport International qui, elle-même, fut achetée par la Brink's Company en février 1998.

U.S.A.

Code IATA : 8C Code OACI : ATN

Charter passenger and cargo airline formed as US Airways in 1978, and later known as Interstate Airlines.The current name was adopted in 1988. On 1 October 1994 ICX INternational Cargo Express was merged into Air Transport International, which was itself purchased by the Brink's Company in February 1998.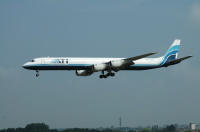 Mac Donnell - Douglas DC-8-73 (F)
N605AL
Liège Bierset - LGG 06/07/06